Cupcake Vending With Sprinkles On Top
SMB Retail

by Angela Diffly
Sugar High
If you've never had a Sprinkles cupcake, there's more opportunity than ever to rectify that. On March 6, 2012, the company opened its first customer-facing vending machine for its delectable treats, and since then, the company has opened ten more, with two more opening in August 2016. The "cupcake ATMs" complement the company's 20 stores nationwide, and provide 24/7 access when your sweet tooth wants what it wants. Eventually, according to The Huffington Post, the company's kiosks will offer cupcake mixes and apparel, and dog treats are already being offered in some locations.
The cupcake vending machines are as fun and festive as the company's brand look and feel, and coincide with a trend we're seeing: SMB retailers using sleek technologies to outshine their big-box brothers. "Our Micros POS system is sheltered in natural oak, flowing seamlessly from our cupcake display," Sprinkles VP of marketing, Nicole Schwartz told us. "Sprinkles is a fun, playful brand with a modern aesthetic. We shun the frills and doilies of old-fashioned bakeries and employ clean lines, simple surfaces and bright colors," she said.
The company wants the focus to be on the cupcakes, which they handcraft from scratch daily. "When you walk into the store, the cupcakes are lined up perfectly, and that's what should capture your attention. Since our Cupcake ATMs are located outside our bakeries and the cupcakes are not visible, we got more playful and creative with them to attract attention and let people know something special was happening! Our perky pink machine employs the Sprinkles primary color palette."
Fans love the company's happy décor and brand vibe. It fits. What's happier than a cupcake? (Okay, a person eating one!) One blogger wrote, "Forget Disneyland! The Sprinkles Cupcake store in NYC has to be the happiest place on earth! How can you not find joy in a place where you can eat a cupcake while sitting on a cupcake (ottoman, that is) and regard cupcake wall art? The sleek, minimal landscape paired with bright, happy colors results in a tasty treat for the eyes. The actual cupcake confections aren't too shabby either!"
Crave Leads To Rave
Sprinkles owners Candace and Charles Nelson took over a year to design and build the cupcake vending machines. It all started with a late night craving. The Nelsons were pregnant, and as Charles told it, "It was the middle of the night, and my wife really wanted a cupcake. I own a cupcake shop and couldn't even get a cupcake!" The cupcake ATMs were born, ensuring that when anyone wants a cupcake, they can get one.
The design was tricky. "Not only did they want it to hold several hundred cupcakes, it needed to be designed in a way that ensured cupcake frosting safety!" Schwartz explained. "One wrong move as the cupcake is transported through the machine, and the cupcake gets destroyed." To avoid this atrocity, the cupcakes are handled by a robotic arm, which uses suction to grasp the cupcake box and gently move it to the customer window.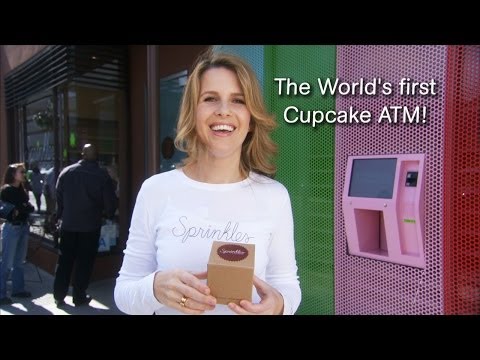 The Sprinkles cupcake vending machines have been a huge hit. Each one allows the company to sell up to 1,000 cupcakes a day at $4.25 each. Fortune Magazine did a little calculation of its own. At the time of the article, Sprinkles had six cupcake ATMs. Fortune speculated that if all six machines sold roughly 365,000 cupcakes a year at $4.25 each, the cupcake vending business alone is raking in $9 million per year. And it's not slowing down. According to Fortune, Sprinkles is partnering with a Middle Eastern franchise operator to open 34 new locations abroad.
"People travel from all over the world to withdraw a cupcake from the Cupcake ATM, and lines can form two hours long and 100 people deep," Schwartz told us. Sprinkles plans to continue adding the ATMs to existing store locations, as well as in high-traffic areas not attached to a store, with its first "offsite" ATM launching on August 22nd on the University of Southern California campus. The company expects this particular trial to be a model for future offsite cupcake vending machines in other busy locations, like airports. I'll be watching and waiting. The day I can visit a Sprinkles ATM after a dreaded flight delay will be a happy day, indeed.
Find out how technology companies are designing brand-centric technologies for in-store point-of-sale systems. Click here.
---
---
Tags