Top 7 Headlines From Money20/20
SMB Retail

by Angela Diffly
More than 10,000 attendees hit Las Vegas last week for Money20/20, a show that's been dubbed "the world's biggest, boldest and best" when it comes to payments and financial services innovation. With nearly five times the amount of attendees since its launch in 2012, this year's Money20/20 drew half its audience from startups and small companies and the other half from large and medium companies, with 45 percent in payments and financial services, 40 percent in mobile, retail, integrated commerce and marketing and 15 percent in investment, analysts, media, government and other services. We've spotlighted a few key announcements from the show here:
1) Verifone Introduces World's Smallest, Full-Functioning Portable Payment Device
Verifone reimagines what can be delivered through the point-of-sale (POS) with the Verifone V400m, a surprisingly compact, fast and stylish payment device that's intuitive, connected, and commerce-enabled, bringing experiences to the customer wherever they are.
A part of the fully-integrated, Linux-based Verifone Engage family, the V400m is a result of the strategy at Verifone to offer new value at the POS by increasing loyalty and revenue opportunities for merchants and improving the consumer experience with real-time personalization wherever transactions are taking place. Whether it's pay-at-the-table, curbside, or line-busting, its portability makes it an ideal solution for a variety of business scenarios.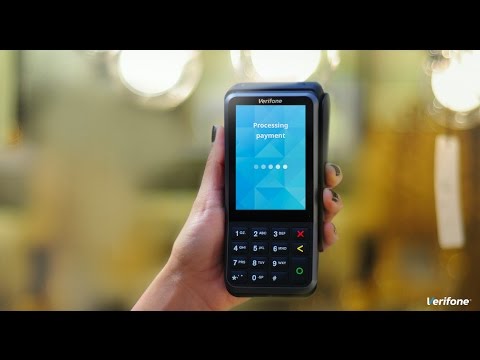 "The payment industry continues to change at a rapid pace as advanced technology is adopted by merchants and consumers alike," said Glen Robson, EVP, Global Head of Verifone Solutions. "As we continue to introduce next-gen products and services, software application delivery plays a leading role in driving an entirely new set of possibilities for consumer and merchant interactions. We're saying 'Hello Experience!' to new shopping scenarios that bridge the gap between online and offline, increase the consumer fan-base and foot-traffic, and bring welcomed revenue opportunities to merchants."
2) Worldpay Total Claims To Make Omnichannel Payments Easy, Fast And Future-Ready
Worldpay launched its newest omnichannel payment platform for the United States – Worldpay Total. Connecting and simplifying payments across sales channels through a single integration point, Worldpay Total delivers end-to-end payment processing by combining point-of-sale (POS), integrated payments and acquiring for integrated software vendors (ISVs) and merchants.
Worldpay first introduced Worldpay Total in November 2014 for its largest UK customers, before extending its omni-channel offering to ecommerce businesses trading in Europe earlier this year. The single, integrated payments solution is already benefiting some of the most recognized brands across industries – including retailers such as World Duty Free and Monsoon Accessorize, and from PrioTicket to The Whiskey Exchange and iconic sports venues such as Twickenham Stadium.
"Today's consumer is the point-of-sale. They shop and buy using multiple channels – in-store, online and their mobile devices. This puts a big burden of cost and complexity on merchants to piece together a connected customer experience using different technologies and vendors," said Worldpay US Chief Product and Marketing Officer Sarah Arvin. "Worldpay Total solves for this, saving ISVs and merchants time and money: one provider, one integration across sales channels and one expert support team."
3) Ingenico ePayments Supports Android Pay Acceptance For Online Merchants
Ingenico ePayments, the online and mobile commerce division of Ingenico Group, announced that the company will offer its clients the ability to accept mobile payments made with the Android Pay mobile wallet starting in early 2017. Android Pay lets consumers easily and securely complete online purchases with their Android device. Since its introduction at Google I/O in 2015, Android Pay has quickly become one of the most popular payment methods for Android users, who represent a large majority of mobile users. With mobile wallets continuing to become a more prominent way for consumers to make purchases, Ingenico ePayments is committed to helping merchants optimize their mobile sales with the most-used and fastest-growing payment methods, such as Android Pay.
4) Vantiv First to Offer Verifone Carbon with Commerce Platform
In an era where connected commerce technologies are transforming consumer behavior, research shows the next several years will see small- to medium-sized businesses (SMBs) increasing adoption of new commerce software and technologies. To help SMBs keep pace and win in the face of this transformation, Verifone (NYSE: PAY) and Vantiv, Inc. (NYSE: VNTV) today announced an agreement to bring the Verifone Carbon Commerce Platform to market in the United States as a key feature of the Vantiv SmartFit Solutions™.
"We found that businesses want smarter, more secure technology to provide advanced payments, create loyalty and grow their business. Verifone Carbon with Vantiv SmartFit Solutions is designed to do that, fitting the needs of small and medium-sized businesses," said Patty Walters, senior leader of Security, PCI, EMV and Terminals at Vantiv.
The Vantiv SmartFit Solutions is a flexible, proprietary approach to providing SMBs with a customized solution for payment processing and adaptable applications that meet their unique needs as their business grows. Verifone Carbon will be loaded with Vantiv's tablet-based payments system for retailers and restaurants. Working with partner iMobile3, a leading provider in point of sale and commerce software, Verifone Carbon includes order and inventory management, tools for online analytics and reporting, and a gift card program, all features that most SMBs desire but often can't afford.
"SMBs are in need of open, agile and intelligent solutions that can help them adapt to change," said Jordan McKee, senior analyst, 451 Research. "These solutions must address key organizational challenges, such as controlling costs and generating customer loyalty, while accommodating the influx of new consumer technologies such as digital wallets."
5) ControlScan Launches New Educational Website to Help SMBs Properly Secure Sensitive Customer Information, Including Credit Card Data
ControlScan, provider of security and compliance solutions for small and mid-sized businesses, is announcing the launch of an all-new educational website. The site, SMBSecurityGuide.org, serves as a primary point of reference for SMBs that are seeking information and best practices to secure the sensitive customer data they handle.
SMB Security Guide joins PCI Compliance Guide (PCIComplianceGuide.org) to create an "arsenal" of ControlScan web properties that educate SMBs on unified security and compliance for data breach prevention. PCI Compliance Guide, which averages nearly 2,000 daily visits, gives SMBs important information and action steps for complying with the Payment Card Industry Data Security Standard (PCI DSS).
"We're excited to introduce SMB Security Guide at the Money20/20 event," said Joan Herbig, CEO, ControlScan. "The payments industry has a lot at stake when it comes to SMB security—and it's not all related to PCI. SMB Security Guide picks up where PCI Compliance Guide leaves off, so that SMBs see the big picture of how secure technologies and processes contribute to their business success."
A deep commitment to educating and protecting SMBs has established ControlScan as the go-to partner for more than 135 ISOs and acquirers representing over 2 million merchants. These merchant service providers rely on ControlScan to provide the insights, technologies and services that expose hidden risk while reducing complexity and stimulating secure behavior among the merchants they serve.
6) Samsung Pay's Masterpass Integration
Samsung took the wraps off a redesigned mobile payments app, support for new countries, online payments, and integration with new merchant partners. The company announced a partnership with Mastercard that will see online retailers which accept Masterpass, the payment processor's express checkout service, extend that support to Samsung Pay later this year. That includes "hundreds of thousands" of merchants in 33 countries, Samsung said.
"By partnering with Masterpass in the U.S. and rolling out online payments globally, we will simplify the online transaction experience by eliminating the need for customers to fill out tedious online checkout forms, remember long passwords or fumble for their wallets," said Thomas Ko, VP and global GM of Samsung Pay and mobile communications business at Samsung Electronics.
Both companies said the partnership will provide benefits, such as express checkout, purchasing from any device, secure transactions, new in-app payment for certain retailers and special deals for local consumers.
It's all part of Samsung's "Payment+" strategy, which aims to transition Samsung Pay from a payments platform to a one-stop mobile coupon, loyalty, and ticketing stop. Starting next month, Samsung Pay will gain the ability to store more than 4 million membership and loyalty cards from retailers like Safeway, CVS, Walgreens, Starbucks, Macy's, and Sears. And it will rewards users with savings for sharing purchases on social media and meeting certain purchase thresholds.
"We decided that [Samsung Pay] will be more than just payments," Ko told VentureBeat. "We wanted to be closer to the lifestyle of the user."
7) Control Launches First EMV-Compliant Point Of Sale App Available On iTunes And Google Play
Control, payment analytics and alerts platform for Software as a Service (SaaS), subscription and eCommerce businesses, in partnership with Stripe, Miura Systems, and payworks, launched the first EMV-compliant app for Stripe. Stripe merchants can now take in-person payments using a Miura Systems card reader in tandem with Control¹s mobile app, which delivers key payment metrics on both iOS and Android devices. The card reader is both NFC enabled and EMV compliant, meaning that merchants will be able to accept secure mobile payments from customers using either contactless payment methods or chip-enabled cards.
This partnership provides Stripe merchants with even greater global reach and flexibility. Whether they¹re located in the USA, United Kingdom, Ireland, France, Spain, or are Stripe Atlas merchants worldwide, they will now be able to accept Chip and PIN and NFC payments (including Apple Pay, Samsung Pay, and Android Pay) via Miura Systems card readers. The Control app and card reader solution will give the rapidly growing number of Stripe merchants the ability to process secure Point of Sale (PoS) payments and access business analytics and insights on the spot.
"We are excited to introduce the first EMV-compliant mobile PoS app for Stripe that will be distributed through the iOS and Android app stores. This enables omni-commerce businesses to use leading payment technology without any investment in software development," says Kathryn Loewen, Founder & CEO of Control. "Importantly, Control¹s integration via Stripe Connect allows merchants to access all of their key payment analytics and insights through one data source, eliminating the need to consolidate reports from disparate sources."
---
---
Tags